The Island of St. Vincent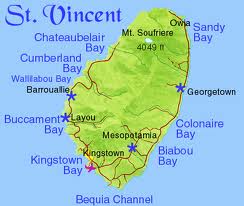 The main island of St. Vincent is 133 sq. miles in area and lies to the west of Barbados, south of St. Lucia and north of Grenada. The capital is Kingstown which is also the main port of entry. Agriculture is the most important sector of the economy while the services sector, based mostly on a growing tourist industry, is also important.
There are five (5) ports of entry – four (4) seaports and one (1) airport. The seaports are KINGSTOWN , CAMPDEN PARK , CHATEAUBELAIR and WALLILABOU and the airport is the ARGYLE INTERNATIONAL AIRPORT. Customs offices are located at all ports of entry.
CUSTOMS SERVICES OFFERED AT PORT KINGSTOWN
Boarding of ships
Clearance of ships and yachts
Processing of international passengers and crew
Registration of manifests
Processing of cargo
Processing of courier and postal packages
Processing of exports
Transshipment of cargo
Private warehousing of goods
OPENING HOURS
Transit Shed: Monday to Friday - 8:00am to 3.45p.m and Saturday - 8:00am to 11:45
Post Office: 8:30am to 3.45p.m and Saturday - 8:30am to 11:45
All other Customs areas: Monday to Friday - 8:30am to 4.00p.m and Saturday - 8:30am to 12.00 noon
CONTACT
TELEPHONE: 784-457-2421 / 457-2711
EMAIL: ced@customs.gov.vc
WEBSITE: www.asycudaw.svgcustoms.net