News & Events
Stacy-Ann Adams is first female WICB Selector


MAY 11TH 2023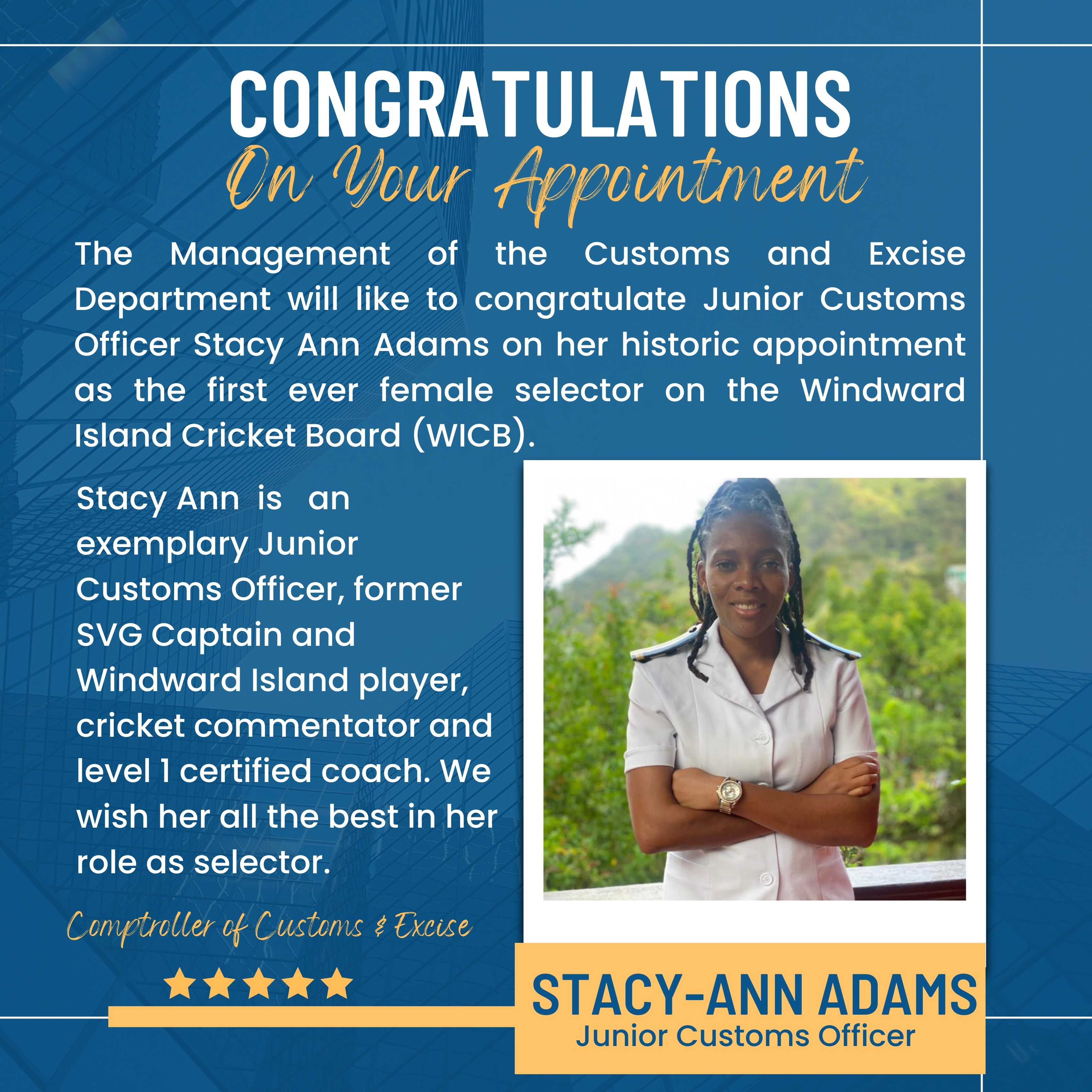 Saint Vincent & the Grenadines
Longest serving Customs Guard retires

JUNE 4TH 2021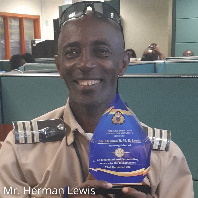 Herman Lewis proceeded on pre-retirement leave on May 31st, 2021 and will officially be retired from his position as Senior Customs Guard at the Customs and Excise Department (Customs) on December 23rd, 2021. He spent the past thirty-three (33) years employed at the Customs Department: this made him the longest serving Customs Guards on record.
Herman Lewis joined the department on April 5th 1988 as a Junior Customs Guard and for many years was assigned at the E.T. Joshua Airport. His duties included, securing the Customs area and the ramp as well as assisting the Customs Officers in their tasks. He also worked at Port Campden Park and at the Kingstown Headquarters throughout the years.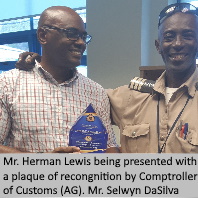 Mr. Lewis took his tasks very seriously and never hesitated to impress upon you the gravity of a situation. His Supervisors and coworkers can attest to his impeccable attendance and punctuality record. While stationed at the airport he was accustomed to arriving for his shift ahead of time. He showed up at least thirty (30) minutes in advance to ensure a proper handover when relieving the Guard on duty.
Coworkers described Mr. Lewis as a very humorous and fun- loving man. While at the airport he was known to make friends with the Police Officers at the Fire Station and often socialized with them. His peers could always expect a good laugh. However, he has a unique skill for shifting quickly between humor and sternness.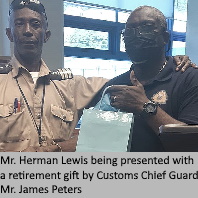 The Department held a retirement send-off for Mr. Lewis on Friday 28th May, 2021 where he was presented with a plaque commemorating his thirty-three (33) years of service and dedication to the Customs and Excise Department and the state of St. Vincent and the Grenadines. The management and staff of the Customs and Excise Department would like to thank Mr. Herman Lewis for his years of service and to wish him God's richest blessings on his retirement.

INTERNATIONAL CUSTOMS DAY 2021 "BOLSTERING RECOVERY, RENEWAL, AND RESILIENCE FOR A SUSTAINABLE SUPPLY CHAIN"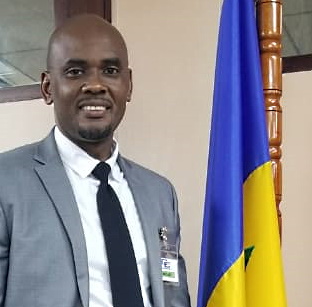 Each year on January 26th the St. Vincent and the Grenadines Customs and Excise Department joins the Brussels based World Customs Organization (WCO) in celebrating International Customs Day. This extraordinary day is so chosen to honor and pay tribute to Customs officials and agencies worldwide for the role they perform in facilitating and sustaining the transit of goods across the world's borders. This year we celebrate considering the significance of the theme "Bolstering Recovery, Renewal and Resilience for a sustainable supply chain."

TheCorona virus (COVID-19) pandemic has placed an incredible strain on the global economy and has posed significant threats and challenges to both the supply and demand of goods and services. These are manifested in lockdowns, closure of borders, reduction in the supply of labour as well as job cuts and loss of income. This once in a century worldwide pandemic has driven home the significance of the interconnectivity of world trade and the need to engage in initiatives that support the smooth flow of goods across borders. Notwithstanding, Customs seeks to ensure that we withstand the challenges and overcome the hurdles.
Tuesday January 26th, 2021, will be dedicated to the united efforts of "Customs administrations to emerge from the corona virus crisis and support people and businesses by strengthening the global supply chain, reinforcing collaboration, harnessing technology and putting people at the center of the transformation process." We have implemented basic reforms to ensure our health and safety and to protect the economy of the country. Customs continue to manage the COVID-19 concessions for cleaning, protective and sanitization products as well as barrels that contribute to sustaining thousands of Vincentian households during this difficult time. We do so utilizing Risk Management to facilitate trade while ensuring that revenue, as well as the safety of the nation is protected.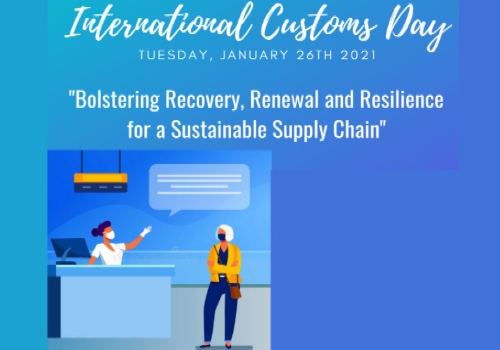 Our Officers are on the frontline at the heart of this pandemic - processing passengers, boarding yachts and cargo vessels as well as examining cargo at the various air and seaports and interacting with stakeholders. The very obvious threat to their health and wellbeing as essential workers is not overlooked. Measures to protect our health and safety on the job have also been implemented.  A shift system has been implemented, access to offices has been restricted, sanitization stations have been erected and other health protocols have been adhered to. Our courageous Officers continue without hesitation to collect the revenue, protect our borders and facilitate legitimate trade and travel. They must be commended for a job well done. In the midst of a global health crisis, we still collected revenue surpassing all other OECS administrations that were given revised targets for 2020. As result, our country is seen as an 'exemplar' of revenue collection for the fiscal year 2020.
I would like to take this opportunity to recognize members of staff who persevered through these difficult times to fulfill academic achievements, a record in the history of the administration, the largest batch of graduates in any one calendar year:

Mr. Rohan Barbour, Ms. Sylvorn Karen John and Mrs. Sherrika Shallow - John on completing their Bachelor's in Border Management.
Miss Tammy Cumberbatch in completing her Bachelor's of Science in Accounting.
Mrs. Dennica McKie for completing her Bachelors of Science – International Management Studies
Mr. Leslie Millington, Mrs. Lynda Myers Ellis and Mr. Maxwell Burke for completing a Diploma in Public Sector Management.
Congratulations to all of our Graduates!
On behalf of the Management of the Customs and Excise Department, I would like to take this opportunity to thank the staff for their tireless efforts towards achieving our mandate in these trying times. Special thanks also to our stakeholders and customers who worked along with us in navigating this unique terrain of a global health crisis. We wish you all the best for the future and look forward to your continued cooperation and support.
A Happy and Safe International Customs Day 2021 to all!
Implementation of ASYCUDA World
The Customs and Excise Department as part of its on-going modernisation program is schedule to implement ASYCUDA World on October 14, 2013.
ASYCUDA World is the latest version of Customs application produced by the United Nations Conference on Trade and Development (UNCTAD). It is an upgrade of ASYCUDA++, a Web-based software solution which is greater in scope and will virtually revolutionize the way business is conducted between the Customs Department and its key clients and stakeholders.
Key features of the system are;
Java Based
Internet Application-Login from anywhere in the world
No requirements for a specific module or modules
More user friendly interface
Provides opportunity for easy connectivity with other systems
More secure connectivity
Scope for the development and attachment of a wide range of Electronic-Documents
New developments that will be facilitated are as follows;
Electronic submission of Customs declarations and other supporting documentation
Enhanced functionality in the preparation and submission of manifest
Direct interface and information sharing, between key Government Departments and Ministries
License Management System-Linking Ministry of Trade
Linkages with other Departments, for example Ministry of Agriculture and the Bureau of Standards