Prohibition imposed on the importation of Motor Vehicles over twelve years Old
For printable and PFD version click here


Please be guided by the Statutory Rules and Orders#8 of 2018 which took effect
from 1st May, 2018 and provides for an amendment in Part 1 of the Third Schedule
of the Customs (Control and Management) Act CAP 422 to include item 12A as a
prohibited import.

You are therefore asked to take note of the following guidelines when applying
this amendment:
The prohibition (ban) on importation is imposed on any motor vehicle
described under Chapter 87 of the CET over twelve years old from the
date of manufacture to the date of importation.
A transition period of thirty days from 1st May, 2018 has been granted to
facilitate the arrival of any motor vehicle shown to the satisfaction of the
Comptroller of Customs to have been ordered prior to the date of
commencement of the Order. The transition period ended on 31st May, 2018.
The necessary supporting documents to determine whether the motor vehicle
is prohibited or not must be submitted to the Valuation Unit. These may
include proforma invoice, wire transfer etc.
If a motor vehicle is found to be prohibited among a consignment with other
vehicles or goods, the freight and other charges will be apportioned as normal.
However, the vehicle will NOT be accepted on the entry.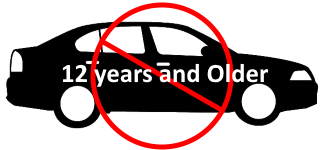 All are asked to take note and be guided accordingly.
By order of the Comptroller of Customs and Excise